Born in 1972, Odissa ( India) , Tapan Das has finished his B.F.A from B.K College of Art in Bhubaneshwar(India). He received many awards such as ALFCS Scholarship award-New Delhi(1998), Silver Medal ,East Zone Youth Festival , Rewa (M.P)-1995, Nalco State Award , Odissa (1993) and many others. He has participated in many solo shows, group shows, camps and other exhibitions in India & abroad.
His paintings area part of a collection of institutions such as Northern Railways- India, Orissa State Museum,Bhubaneswar,  Marwah Studio, Film City – Noida, Regional research Science Laboratory, Bhubaneswar, City Bank, Jet Airways – Bombay, Atlas Cycles – New Delhi, Dalmia Group, ITM – Gwalior, Hotel Madhuban – Dheradun, M.E.C Art Gallery and Many Private Collections in  INDIA, U.S.A., ITALY, DUBAI, SINGAPORE, MEXICO, HOLLAND, FRANCE, GERMANY, FINLAND, CAMAROON, AUSTRALIA, JAPAN, U.A.E, United Kingdom, Netherlands, Etc.
Tapan's oeuvre incorporates the elemental strains of Orissan art blending the tribal, folk and classical lexicons. Figures of personal and hierarchic existence move amidst the planar geometry and the natural elements. This body of work is inextricably linked in thematic and visual content with his homeland.  Tapan, proffers an individualistic illusionism of this realm, the ritual facets of life, blended with textural motifs, organic palettes, and verdure in both naïve and complex metaphors.
Throughout his pantheon of images, his figures manifest their physical and metaphysical connections with the allegorical and surrealist settings. Their faces, often multi-layered and mirrored, many in profile, are highly expressionistic, effecting synergistic moods and spirit. Nature, faith and imagination are at the core of this Tapan's world. An echo of this non-duality permeated the life and world of the legendary Bengali artist, composer, educator, poet, philosopher, and Nobel Prize winner, Rabindranath Tagore 1861-1941) , who  wrote repeatedly on threads of continuity, of dimensions of mind, body and spirit inherent in explorations and creativity and  his songs spoke of the relationship of humankind to all facets of existence, a celebration of the larger consciousness of being, of art as the connective thread.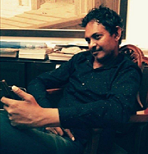 Size:  60"x60"
Media: Oil on Canva
Price(INR): 5,65,000
Price(USD): 7,530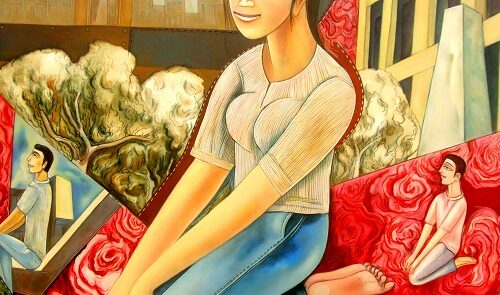 Size: 36"x60"
Media: Oil on Canva
Price(INR): 3,40,000
Price(USD): 4,530