Title: Ancestors, Medium: Oil and Acrylic on canvas, 36"x60"
Title: Sarangata, Oil On Canvas, 24"x30", Year-2020
Title: Princess, Acrylic on Canvas, 24"x30" , Year-2020
Title: Aparajita, Medium: oil on Canvas, 60"x36"
| | | | | |
| --- | --- | --- | --- | --- |
| Title | Size | Media | Price(INR) | Price(USD) |
| Ancestors | 36"x60" | Oil on Canvas | 600,000 | 8,000 |
| Aparajita | 60"x36" | Oil on Canvas | 600,000 | 8,000 |
***Price Exclusive of GST (12%).
Other Paintings- Price on Request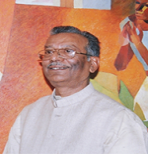 Born in January 1940 in Bengal, Niren Sengupta was the former Principal of College of Art, New Delhi. He has taught for over 30 years at graduate & post-graduate levels in various art institutions. He graduated in science from the Calcutta University and secured a Graduate Degree in Arts from the Govt. College of Art & Crafts, Calcutta. Niren Sengupta is also the Founder member of 'Gallery 26' in Kolkata. He is also a member of the group Calcutta Painters and Executive Member of the Academy of Visual Media, New Delhi. 
Niren Sengupta has many prestigious solo and group exhibitions to his credit. The veteran artist and art educator has over 30 years of teaching experience at both graduate and post graduate levels. He has been felicitated with many awards such as the AIFACS Award and NBT  Award in New Delhi as well as the Award for Humanity Udayan Care, DSCWOS. 
His works can be found in collections at well-known galleries, Lalit Kala Akademi , NGMA and many art collectors in India & Abroad. The artist works from his studio in New Delhi.