Dharmendra Rathore a person with a blissful soul is traversing the journey of creativity not to win the race but to leave a mark in the field. He was born in Salari a small village in the Ajmer region of Rajasthan. His initial articulation with colour and forms has developed in the midst of rich and vibrant cultural tradition of Rajasthan. Immensely inspired by the folk art and culture he constantly strives for the betterment of this tradition. Apart from the miniature painting tradition he is deeply rooted with the performances and festivities which contextualize the visual culture of a region.
Dharmendra pursued diploma in fine arts from the Rajasthan School of Art during 1985‐1990 and then moved to Delhi to do the master course in the same stream. He got admission in Delhi College of Arts in 1991 and got the privilege of getting guidance of teachers like O P Sharma, Biren De and Gopi Gajwani.
Rathore used to do bigger canvas from his college days and was known for his ingenuity. During his college days he had biggest studio in the college campus. Abstract was his initial preference. He always tries to use his creativity and imagination for some noble cause. During the Iraq war he painted a series on the Gulf War which was a gruesome act and stigma on the global scene.
One can also notice the influence of War & Peace (Leo Tolstoy) in his earlier works.
Rathore always keeps his creative thought rolling and loves to dig out the history of art and
medium within the parameters of its transition. He always follows the notion of "art for the
public". In spite of being in a metropolitan culture Rathore is deeply rooted with his land and region. After completing his masters and working for few years in Delhi, he went back to Rajasthan and tried to serve his society through his creative input and his works got a tap of social problems and issues. These works were later shown in a solo show hosted by Vadehra Art Gallery in New Delhi. Restrictive resources has dragged him back to the metro and in 2001 he has shown his Buddha series works in a solo show titled "Visual Resonance" at Art Alive Gallery in New Delhi.
The artistic shift from the abstraction to the figurative was with the notion that
he wanted a simpler way to express which can be understood by the general public. The
imagery of Buddha in his paintings gives a calm and serene feel to the viewer and takes him
through the journey of spirituality. The philosophical and mythological approach in the artist has come from his family.
Rathore has widely exhibited his works including few notable solo shows at Vadehra Art
Gallery, New Delhi; Art Alive Gallery, New Delhi; Jehangir Art Gallery, Mumbai; Bajaj Art Gallery, Mumbai; Lalit Kala Akademi, New Delhi. Apart from this his works were shown in various exhibitions in India and abroad.
During his artistic journey he has been acknowledged with fellowship from AIFACS, State Lalit Kala Akademi and Ministry of HRD.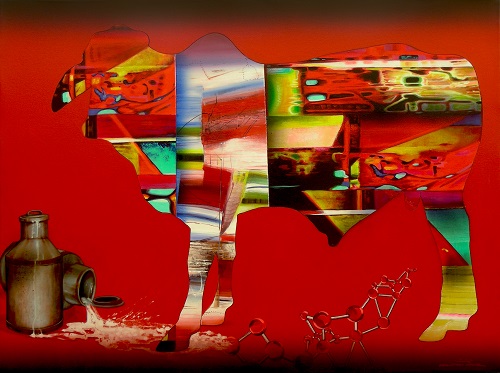 Title-DNA is cool,
Size 36" x 48",
Price- Rs 3,60,000
Title Acrylic and Oil on Canvas
Size 30 x 42
Price- 2,60,000